Description
Power cable sold separately based upon your specific requirements.
Power Cord options:
HYD-CHW843010W

- 8' Weiland 120V power cord
HYD-BAFLTEXT5 - 8' Weiland 240V power cord
HYD-BAFLTEXT3 - 8' Weiland 347V power cord
1/Case
PHOTOBIO•V 15W 100-277V GE Spectrum (12/CS)




Product Details
PHOTOBIO•V is a modular, high efficiency LED designed for vertical farming. PHOTOBIO•V fixtures and tailored spectra have proven themselves worldwide in everything from heavily automated massive vertical farms down to single rack installations. PHOTOBIO•V's slim vertical profile maximizes vertical real estate allowing greater production space, and its modular design lets you link and power multiple 100–277V fixtures from a single input power. All PHOTOBIO fixtures feature true IP 65 ingress protection rating from dust and liquids. IP65 power connection allows quick attachment at the fixture for easy installation and maintenance. The PHOTOBIO•V LED is available in commercial multiples of 12 only.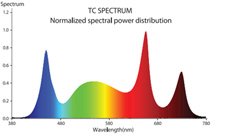 TC Spectrum: The Germination spectrum is optimized for both chlorophyll a and chlorophyll b by using two very specific horticulture chips giving a double peak at around the 435 and 460 nanometer region. Ideal for propagation and cloning applications. This unique optimization helps increases yield while using less energy in many cultivars.
FEATURES:
High capacity production capabilities: Backed by technology from one of the world's largest manufacturers of LED chips
Slim vertical profile: Maximizes vertical real estate allowing greater production space
Modular design: Provides the ability to link and power multiple 100–277V fixtures from a single input power
True IP65 protection: Defends against water and dust
Three year warranty
 INCLUDES:
(12) LED light bars
(2)   20" Micro IP Female input power cable (bare wire leads) 
(12) 18" Micro IP Male to Micro IP female daisy chain cable
(24) Surface mount buckle clips
(24) Buckle screws
(12) T shaped hanging bracket(For sub-canopy or inter-canopy applications)
(24) Screws for T shaped hanging hardware
(24) Nuts for T shaped hanging hardware
(1)   User manual
Delivery estimates will be communicated after purchase.
Once a Special order has been placed and shipping expectation set, we cannot cancel your order.
Special order items may be subject to an extra shipping we calculate after purchase. This will be sent before an order is confirmed to be sent.
Shipping & Shipping Insurance
Free shipping Canada-wide on orders over $149.99.
Tracking: Your order confirmation page will have a button for tracking your package & getting shipping updates.
Shipping Insurance: Shipping insurance is available on all orders. Select the Guide Package Protection option at checkout.
Payment & Security
Your payment information is processed securely via our encrypted online checkout, which is compliant with all six PCI standard categories to ensure your data is safe. We do not store credit card details.