---
Description
Power cable sold separately based upon your specific requirements.

Power Cord options:


HYD-CHW843010W

- 8' Weiland 120V power cord
HYD-BAFLTEXT5 - 8' Weiland 240V power cord
HYD-BAFLTEXT3 - 8' Weiland 347V power cord


Product Details
The PHOTOBIO•M multi-bar LED can be applied as a direct 1000W HID alternative or retrofit. The fixture's slim vertical profile makes it ideal for vertical tiered cultivation for greater production capacity in the same square footage. Patented PHOTO•PRO Photon Regulating Optics ensure the most efficient delivery of plant biologically active radiation (PBAR) to the plant canopy. PHOTO•LOC Light Output Control allows precise control over the photons that are delivered to the plant canopy when used in conjunction with a 0–10V controller. The specific power cable is sold separately based upon your requirements.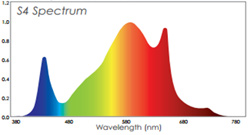 S4 Spectrum: Provides highly efficient full spectrum with a healthy red-to-blue ratio to drive photosynthesis. Light energy between 500–599nm, previously thought wasted, penetrates deeper into the plant canopy promoting photomorphogenic responses. High color rendering "white" light aids to rapidly identify potential threats to your crop and provides superior working conditions and safety for personnel. Ideal for both flowering and vegetative production.
FEATURES:
High capacity production capabilities backed by technology from one of the world's largest LED chip manufacturers
Bar spacing can be adjusted to optimize uniformity
Patented PHOTO•PRO Photon Regulating Optics create unrivaled uniform light delivery to your plant canopy
100-480V Driver Options
German Made Wieland IP Rated Input Power Connection
PHOTO•LOC Light Output Control access any 0-10V signal to control photoperiod and dimming
Antireflective coating on the inside of lens ensures maximum photon transmission
Frosted lens to properly blend spectrum
True IP65 protection against water and dust
Five year warranty
Power cable sold separately based upon your specific requirements.
Delivery estimates will be communicated after purchase.
Once a Special order has been placed and shipping expectation set, we cannot cancel your order.
Special order items may be subject to an extra shipping we calculate after purchase. This will be sent before an order is confirmed to be sent.
Shipping & Shipping Insurance
Free shipping Canada-wide on orders over $149.99.
Tracking: Your order confirmation page will have a button for tracking your package & getting shipping updates.
Shipping Insurance: Shipping insurance is available on all orders. Select the the Route Shipping Protection option at checkout.
Payment & Security
---
Your payment information is processed securely via our encrypted online checkout, which is compliant with all six PCI standard categories to ensure your data is safe. We do not store credit card details.